75% PURE ACORN-FED IBERIAN HAM
448,80€ – 503,80€ P.V.P.
Ingredients
Acorn-fed Iberian ham, salt, dextrose, sugar, antioxidant (E-316) and preservatives (E-252).
Curing process
More than 36 months of natural curing.
Presentation:
Whole piece, boneless center vacuum-packed or sliced ​​with a knife.
Description
Acorn-fed Iberian Ham 75% Iberian Breed, is a product made with the hind limb of the pig, subjected to the corresponding process of salting and curing-maturation. They are meticulously selected pieces from animals raised in freedom in pastures and fed on acorns and rich herbs that will mark the final characteristics of the product.
The presentation of the final product can be whole in a unitary way, vacuum-boned center or sliced ​​with a knife.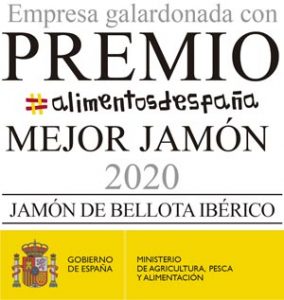 Additional information
| | |
| --- | --- |
| Weight | 8 kg |
| Selección Formato | Pieza entera, Loncheado a cuchillo (sobres 100Gr.), Centro deshuesado al vacío |
Tasting Note
Visual Aspect
Characteristic purple-red color of its lean part, shiny and soft appearance of its fat, good infiltration and great marbling.
Texture
Homogeneous, slightly fibrous and without pastiness or softening, its high juiciness stands out.
Smell
Its smell is intense, persistent, very pleasant and characteristic.
Taste
Delicate, juicy and sweet flavor, just the right salty touch conceived by a good salting and curing process. A delight for the palate.
Nutritional Value
Iberian Ham is an exceptional product that has magnificent beneficial properties for health.
It is considered one of the products with the highest protein levels, not only in terms of quantity but also quality.
Its consumption covers the daily protein needs.
Product recommended for people with obesity and cholesterol control, since its fat contains a higher quality of unsaturated fat.
Mean Nutritional Values (100 gr Portion)
Energetic value 432 Kcal – 1807 kJ
Fat 33.4g
Saturated Fat 9.7g
Carbohydrates < 0.10 g
Sugars < 0.10 g
Protein 32.6g
Salt 4.3g